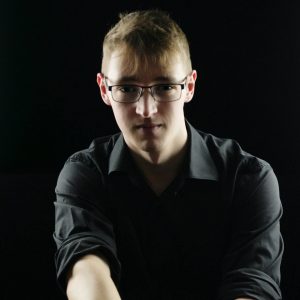 BMus
Liam joined the Sono Music family in 2017 with a strong track record of helping his students achieve their goals.  While drum kit is his primary instrument, he's a bit of a sneaky all-rounder, being competent in piano, guitar and bass.  Liam can be found performing with The Big Eagle Jazz Band (Traditional Jazz), and The Sparrowheads (Modern Jazz).  Liam also enjoys playing rock, pop, blues, folk, and musical theatre, lending his services to many projects in these genres.

Who are some of your major influences?
Neil Finn, Tim Finn, The Beatles, The Wiggles, My Friend The Chocolate Cake, Sting and the Police, Paul Simon, Cirque Du Soleil.


What do you love most about your role at Sono?
Seeing clients develop confidence in their instrument.

What is your main aim when working with clients?
I strive to promote the importance of music education and the necessity of the performing arts in everyday life. I achieve this by being available, flexible, and resourceful.

Why have you committed to a career in music coaching?
I always enjoy watching people pick up or play an instrument for the first time. From the joy in their eyes when they play their first note, all the way to watching them grow into confident musicians, it's wonderful to observe and facilitate the musicians of the future.