BMus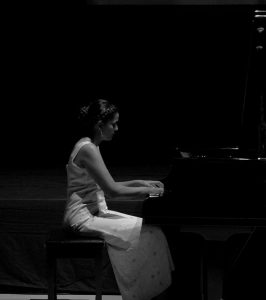 Rachel joined the Sono family in April 2016. She has been working as a piano teacher since 2013 in both Australia and abroad.  She is an accomplished and versatile pianist, having studied the  Associated Board of the Royal Schools of Music (ABRSM) classical piano syllabus while growing up in Malaysia, and later obtaining a Bachelor of Music with a contemporary music major. Rachel has the enviable gift of perfect pitch.
Why have you committed to a career in music coaching?
One of the reasons why I have committed myself to a career in music coaching is that I would like to guide others to uncover and reach their musical capabilities. I believe everyone should be given the chance to explore and appreciate music especially through learning music.
What is your personal mission statement?
My personal mission statement is to continually pursue knowledge and growth. As a music coach, I would like to inspire others to seek musical growth by engrossing themselves in their musical journey and to not only develop musical aptitude and literacy but to also thoroughly enjoy the process of learning and discovering the gift of music.
What do you love most about your role at Sono?
I love watching that "eureka" moment that happens for a client when they are able to play their favourite song, make connections to musical concepts they've learned and thoroughly enjoy their musical journey.
What are your favourite styles of music?
I find myself inspired by a plethora of music styles ranging from classical to rock to new age and more. Some of my favourite pianists and composers include Olafur Arnalds, Frederic Chopin, Herbie Hancock, Yanni and more.
Client Testimonials
"Just wanted to drop a line to say how great lessons have been. Have always wanted to play piano but couldn't read music so this always held me back, but have to say I'm so glad that I got in contact with you. Rachel has been fantastic in teaching how to read and how to play. She's so patient and encouraging which makes for stress free lessons and helped me learn to read and play. Actually, everyone I've dealt with at Sono has been so lovely. I have and will continue to recommend Rachel and Sono." – Rachel McLarnon
"Rachel is a fantastic piano tutor. Our kids have thoroughly enjoyed learning from her. It's great that she asks the children what music they like so that the lessons are interesting and encourages the kids to keep practising. Our kids highly recommend her and so do we!" – Luke and Noi McPhail
"Sono Music and my respective piano teacher, Rachel, have continuously demonstrated a friendly and effective learning environment since my first orientation lesson. Starting with zero knowledge and experience in playing the piano, I have found great benefit in Rachel's teaching style. I would not hesitate in recommending Rachel and/or Sono Music to someone interested in learning a music related activity." – Cameron Duchatel
"I've been attending for almost 3 months now and began with the school as a total beginner with zero experience on the piano and Rachel has already helped me come so far. Her teaching style is effective and the late classes work well around my work. I've even already learnt a few songs on the piano and am learning a personal favourite as we speak.  Highly recommend Rachel from Sono and picking up that instrument you've always wanted to learn!" – Ahmad Ghanem