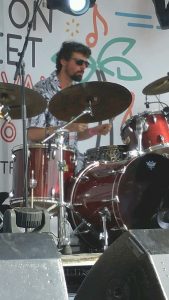 BMus
With 4 years of prior teaching experience coupled with a vast amount of live performance experience, Jasper joined the Sono team in September, 2016.
Who are some of your major influences?
I enjoy a very wide variety of music. I love drummers such as Steve Gadd, Vinnie Colaiuta, Phil Rudd, John Bonham, Phil Collins, Chad Smith and Jack DeJohnette. I love artists such as The Cat Empire, Paul Simon, Led Zeppelin, Red Hot Chilli Peppers, Sting/The Police, U2, Toto, Deep Purple, The Beatles, AC/DC, Norah Jones, Chet Baker, Michel Petrucciani and many more.
What do you love most about your job?
I love that look I get from a client when they realise how good it feels to lay down a solid groove, play along to some great music or master a new technique.

What is your main aim when working with clients?
I believe that life is about learning. With every client, I see an opportunity to not only help to educate them, but to learn things myself. Music is a language, as everyone says, and I see my role as a music coach to be helping people to learn the vocabulary of that language and how to communicate meaning through it.

Why have you committed to a career in music coaching?
I have had a love for music and drumming since I was very young, and could not think of a more enjoyable career than teaching people about playing music. It's a lot of fun to watch people progress on the drum kit and I love to inspire them in any way I can.