Singing in a Choir
So your solo singing skills are great! You have solid confidence, you get lessons from a skilled coach to improve your technique and you practise efficiently. This is super impressive, so well done! BUT… Have you ever tried singing in a choir? Think about some of your favourite solo artists, and then try picturing them singing in a choir. Do you think they would instantly feel comfortable vocally, physically and mentally? It's common to feel underprepared, nervous or alone singing in a choir, but I'm here to hopefully change your mind and attitude!
Choirs offer a wealth of opportunities, such as travelling, meeting new people, and of course gaining and improving musical skills. It's really important for all singers to know the basics of choral singing. So read on to find some handy pointers and information to remember at choral rehearsals and performances.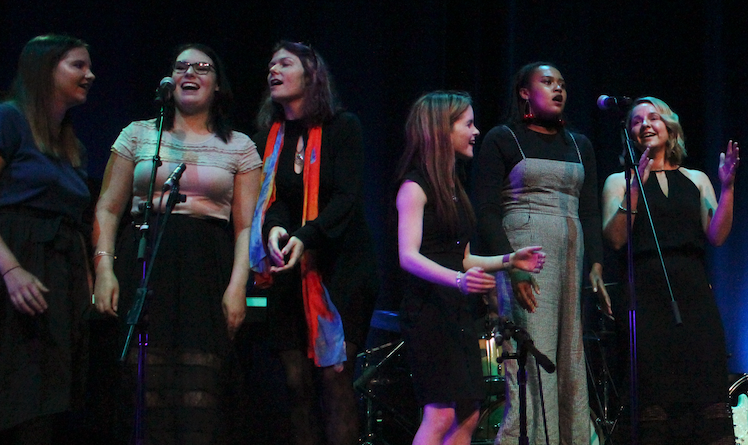 What Is a Choir?
A choir is a group of people who meet regularly to rehearse choral music. These groups usually perform in their communities, at events and functions. Generally, the people who are in choirs are not all professional singers; people from all walks of life come to sing; they all have a passion for music and new experiences. Some choristers may well be singers or people who take lessons, and others aren't, which is what makes choirs great; people of different musical abilities learning and growing together!
Choirs often meet regularly (once or twice weekly) throughout the year and often set goals. These could include aiming to win a choral competition, or simply mastering a difficult piece. Most choirs are SATB, which is Soprano, Alto, Tenor and Bass (male and female). Sometimes, however, choirs chose to change this formula, and there are some fantastic all male (TTBB) or all female (SSAA) choirs too!
Choirs are led by a conductor, who is usually the person with the most experience musically, or someone with formal training in conducting. Their task is to lead the choristers in becoming aware of their three main choir-related skills: Listening, Breathing, and Believing.
Listening
Listening, first and foremost, is a vital skill that all choristers should strive to perfect. Being aware of your own sound in the group and balancing that with other voices can make an enormous difference. Whilst it is a challenging task, the effects are far-reaching and you are contributing a lot to the choir by being a careful listener.
Breathing
Breathing properly as a group is also important, and this requires a sense of cohesion with the other choristers. This is sometimes tricky to get used to, but again it makes such a huge difference when it happens! Finding places in the music where the breath needs to and should happen is one of the steps your choir will take in perfecting a piece!
Believing
Finally, Believing! If you're performing for an audience, but haven't thought about the music and what it means, you definitely won't be engaging with them fully! Audiences come to watch you tell a story and they want to be entertained, so make sure that you believe the music and the text to take them on a journey! Even if your choir doesn't perform, you should always strive to make the text seem real and relatable for audience members.
Participating
As a chorister, it's your job to participate. You need to come to rehearsals and performances, practise at home to learn your part, and work with other singers to make great music! There are so many things that spring to my mind when I think of the benefits of joining a choir and participating fully. From classical to contemporary, choral music can be engaging, interesting, fun, challenging and beautiful. You will certainly gain valuable vocal and aural skills by encountering such diverse genres. On top of this, you get the chance to meet a wide range of people! Making new friends with people from all walks of life is a large part of success in choirs; forming bonds through music is incredible and I've formed many meaningful friendships in choirs!
Who Should Try Singing in a Choir?
Anyone can join choirs! Some people start at a young age, others start later in life, which is totally fine too. Searching online, enquiring at your local council, or asking around your social circles can aid you in finding a choir group that you want to join. Depending on the choir, you may have to audition, but DON'T STRESS! I assure you that choirs are always willing to find new members who can bring energy and joy to their sound, and if you can show off your voice and positive energy they'll love you!
Me? I have sung in choirs since primary school, and haven't stopped since! My choirs have often toured nationally and internationally, singing in competitions, festivals and services. These have improved and expanded my personal and musical abilities infinitely! Meeting new people and making friends, and getting to sing with them has made me feel at home in choirs. There are so many opportunities that can come from being a choir singer, so join one as soon as you can and have fun!